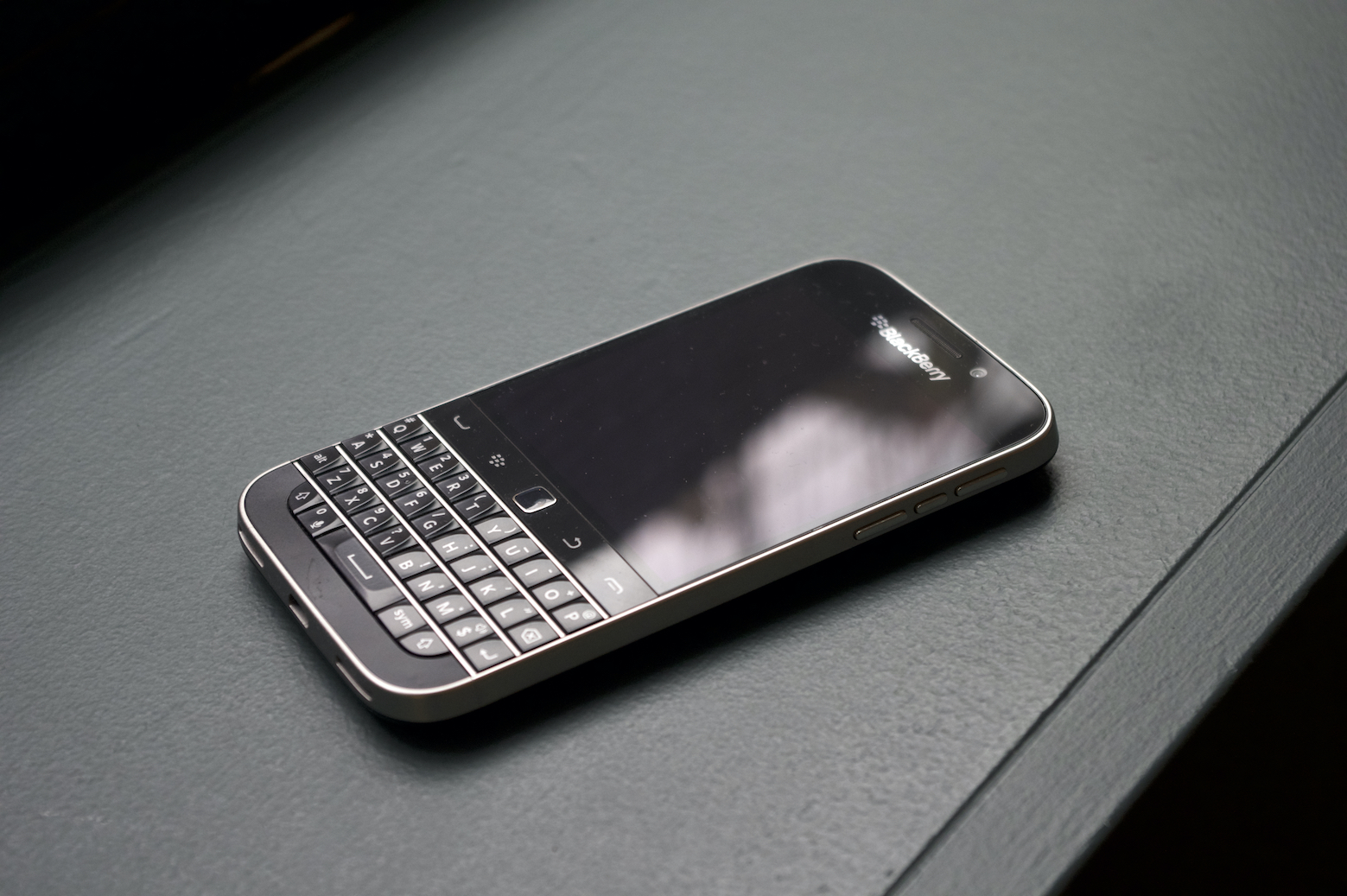 Elon Musk's Recent Twitter Rant Brings To Light The Need To Disrupt The Cell Phone Duopoly, Perhaps More Than A Free Twitter; And BlackBerry Mobile Patents Are Available And Ripe For The Picking.
Earlier this year, OnwardMobility—a once Austin, Texas-based company that attempted to bring back a highly secure 5G BlackBerry cell phone—announced they were closing operations.  This might bring instant confusion to some readers.  A BlackBerry?  But why?  
Analysts and investors agree, that even 3-5% penetration in the cellphone market could be a  profitable venture.  Addicts of the tactile QWERTY still abound, but no longer do they have options to buy; however, when it comes to every other consumer, are there really options beyond the current duopoly?  
In the past, BlackBerry's shortcomings stemmed more from software than hardware, in fact, hardware primarily triumphed.  Ask any former Crackberry addict, and they'll tell you.  So, the mysterious operations at OnwardMobility had many salivating at the possibility of a highly secure QWERTY and likely non-keyboard phone to come to market.  Everyone loves a comeback story and everyone loves variety, and the premise behind OnwardMobility's venture into bringing back a BlackBerry phone was, if anything, bold and ambitious.  
If anyone could bring instant credibility and appeal to a new cell phone, or even a BlackBerry phone, it's Elon Musk; a CEO who's reputation is synonymous with the words 'bold' and 'ambitious'.  A meld of BlackBerry patents and Tesla technology would likely send the Internet world into a tizzy.  And many online jumped on that curveball as Musk vowed to bring a new phone if Alphabet Inc. and Apple banned Twitter from their respective app stores; but a ban on Twitter shouldn't be the sole reason for Musk to launch a new phone, as was his threat in a Twitter rant earlier this week.
As for a BlackBerry with a tactile QWERTY, it wouldn't be necessary, but nice, and it could be a mere option; but what a growing number of consumers want (aside from competition in the cell phone space) is what BlackBerry once provided: security and battery life; two things that haven't improved with great leaps since the iPhone was released in 2007—i.e. the cell phone 2.0 moment—where Apple surpassed all that BlackBerry (the original smartphone) had dominated.
Very little was shared by OnwardMobility during their pre-launch, and even less in their good-bye letter.  It was reported that one reason it failed to launch was because BlackBerry CEO John Chen refused to release the BlackBerry brand / license after Chen decided that it was necessary to disassociate the BlackBerry brand from cell phones altogether, sticking with the idea that the company is now strictly a software cybersecurity company.  But would a new BlackBerry-branded cell phone really stain the company's reputation or rather sully its brand as a software company within the cybersecurity world?
BlackBerry sells mobile and messaging patent portfolio.
BlackBerry had terms made with Catapult IP Innovations Inc. early this year to sell a majority of their non-core and primarily mobile device and messaging patents.  This might have had an impact on OnwardMobility's ability to bring back what they touted would be a highly secure 5G phone made in the United States (you read that right—a cell phone manufactured in the U.S.).  
One complaint often said of the Android-based BlackBerry phones licensed to the TCL Corporation (a Chinese-based manufacturer) was its build quality, shy of what others had experienced and expected from the BlackBerry brand.  But, due to a number of issues, perhaps mostly relating to the sell-off of said patents and Covid's interruption to the world—and Chen's desire to be a software exclusive brand—OnwardMobility informed those who subscribed as early adopters that the company would shut down and its ultra-secure, American-made BlackBerry was binned.
That said, there's a growing chorus of consumers who would like to see phones made locally, in the U.S. or back in Canada, again.  The importance, surely post-Covid, has shifted focus about manufacturing locally, from pharmaceuticals to energy.  Consumers want to know that their communications are safe and secure.  In short, they want options.  
BlackBerry still provides software services for enterprise users, perhaps an exclusivity that should be abandoned and made available to all.  Consider Signal and the DuckDuckGo Browser embedded as defaults on a Tesla BlackBerry cell phone, as opposed to competitor default settings as a way to change consumer indifference.  Regardless of what iteration and strategy, the world is begging for a new cell phone manufacturer to provide what an Apple campaign once claimed was to "Think different"—but it's hard to do when it all looks the same.
If Elon Musk ever reached out to John Chen about making an American-made 5G phone, it could immediately have status and differentiate itself from the pack; Chen could not ignore that possibility from a business and branding standpoint.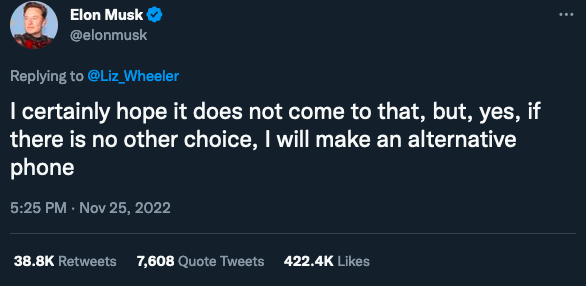 Let's not forget, although Musk is not likely a sentimentalist when it comes to business, he has roots in Canada.  BlackBerry was once the pride of the nation and hangs on, rebounding with cybersecurity, IoT, AI (e.g. Cylance) and QNX software legitimacy.  
More recently, a film titled BlackBerry starring Jay Baruchel and veteran actors Saul Rubinek and Michael Ironside is scheduled for release.  It's based on Jacquie McNish's and Sean Silcoff's book, "Losing The Signal: The Spectacular Rise and Fall of BlackBerry".  Sometimes there's a nostalgic undercurrent that wants to unearth the past and to contemporize them.  The mystery of a device so often seen in a dated TV series to younger generations brings its own appeal, it highlights the company and adds to business community lore.  But BlackBerry's story hasn't ended.  Its rebirth (or perhaps Nokia's) in the cell phone industry would be in the hands of business giants if one of them emerges and so chooses to mould one.
Enter Musk whose talents include unleashing possibilities that have been chambered to modular design and function.  He's a stalwart of innovation, someone who has helped transform the auto industry, an industry that has always been deemed improbable to infiltrate and next to impossible to compete in.  The Tesla story has only begun, but the answer seems at least obvious, that this fantasy venture is less fantasy, plausible and viable. 
Speculative and fanciful questions arise:  Would Tesla take from where OnwardMobility left off?  Would Musk fast-track a new cell phone by partnering with former OnwardMobility CEO Peter Franklin and those who started the 5G BlackBerry dream?  Would Musk start from scratch?  Would he manufacture locally, in Austen, perhaps, just down the road from where OnwardMobility once stationed and where SpaceX resides.    
A lot of what it takes to sell a phone these days is a marketing play and Musk could reach millions through a mere Tweet.  The cell phone industry has maxed out possibilities for innovative change to the point that the cell phone is almost a commodity.  A vast majority of consumers will not need nor seek a better camera on their phone than whatever iteration now currently exists in 2022.  Battery power and consumption, however, is one of the last frontiers, while security will be an ongoing issue.  
The necessary ingredients for Musk to make a new phone seem within reach.  Tesla's own battery technology might be an advantage, if it could be downscaled to a cell phone.  What if Starlink comes packaged in?  Why not offer cell phones with every Tesla sold and bleed them into the price of a car, a phone that acts as an extension of the car, e.g. key fob and remote?  
These might be obvious ideas, but what isn't is Musk's desire to take this on.  Still the idea has planted a seed for many Twitter users who haven't stopped with their encouragement to see a new phone emerge with a Tesla logo attached.         
The BlackBerry emblem, sleek and recognizable, still carries weight in the cybersecurity sphere, where the bulk of its product is now focused, alongside its QNX software—now running in 175 million vehicles.  Many in the past have been vocal that BlackBerry never fully utilized their brand at the peak of their success.  If you're the image of security around the world in telecommunications, why not license your brand to other manufacturers with similar goals?  And why not do it still?  
Through licensing and partnerships, the BlackBerry logo on the back of laptops, with its emblem glowing, through might have been a possibility.  The company made the mistake of not making BBM universal and lost the opportunity in making it today's Whatsapp.  Imagine, a BBM app embedded in a secure-focused laptop today (or in phones) for government workers, hospitals, and regular consumers.  
But that's the nature of the tech business, where a couple of missteps and oversights can nearly sink an industry giant and reduce it to a fraction of its former self.  However, to take a page out of Apple's book on cell phones, all it takes is a little bit of imagination and vision to change the world forever.  Musk would have legions behind him if he brought a phone to market, and tremble the foundations of both Apple and Samsung, even just a little, but Twitter is likely where the majority of his resources will go, for now.  Sadly.