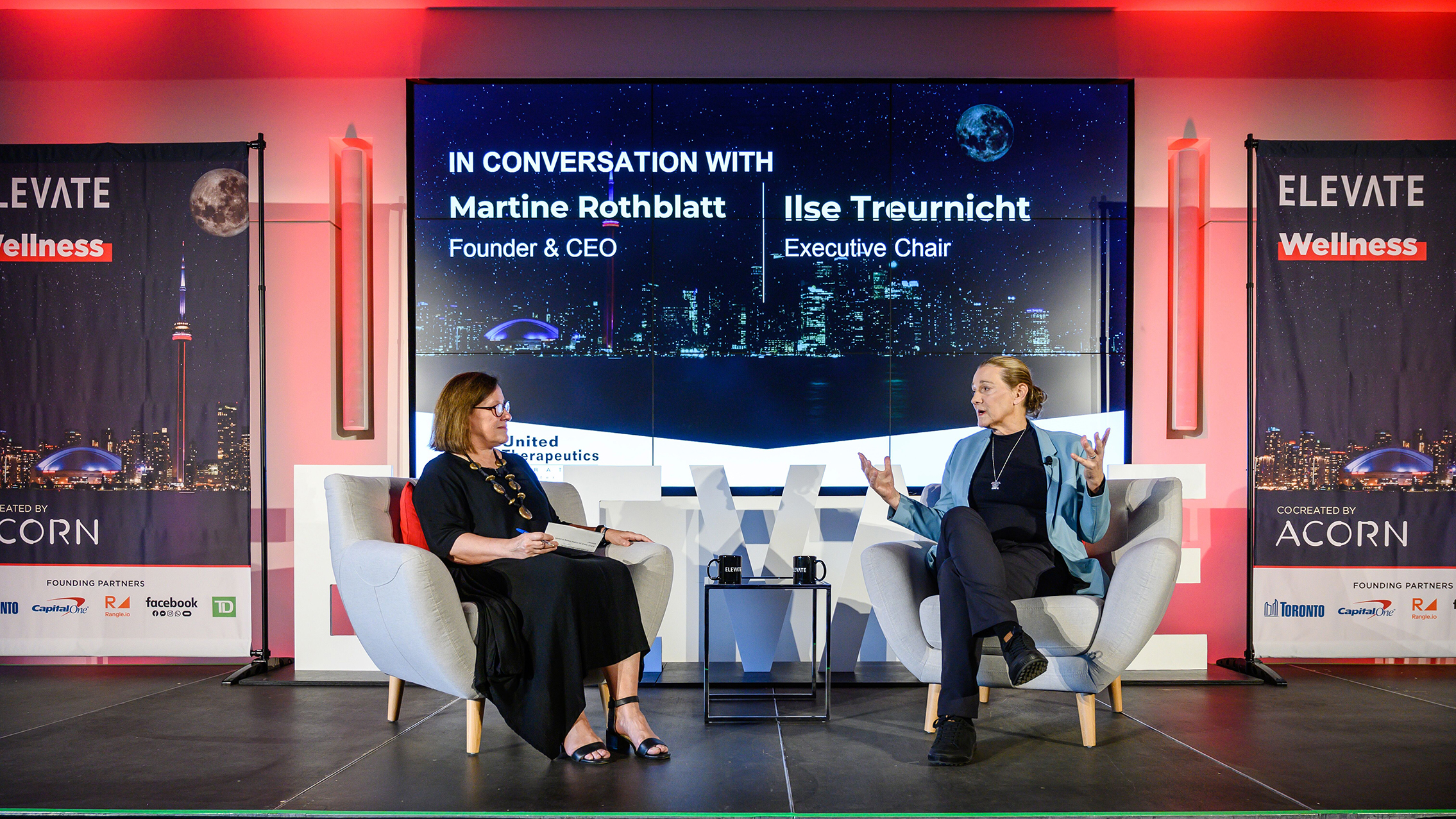 From porcine xenografts to robots, to rejection-proof 3D printed organs and the electric drones that will deliver them, Martine Rothblatt is doing her part to help the future of humanity.
Seldom is one presented with the opportunity to meet an extraordinary individual.  Rarer still, is when that same individual meets every expectation and leaves having inspired many in their wake.
This was one of those rare moments.
At this year's Elevate Tech Festival in Toronto, an array of speakers graciously attended and answered questions on the many stages located throughout the downtown core.  After a quick scan of their bios, it was clear there was a long list of honourable attendees, however, one stood out prominently from all others.  It is a list that included many famed celebrities—the kind chaperoned by a cluster of security guards—but they all failed to capture the intrigue of this author by a considerable margin.  The most compelling, venerable and forward-looking of descriptors profiled was that of Martine Rothblatt.
Outside of certain circles, including familial, those affected by rare disease, stock analysts/ brokers and the LGBTQ community (for which she is a pillar), most have not heard nor read of Rothblatt's name.  
Hopefully, in time, that will change.
For the uninitiated, Rothblatt started her career as an attorney before founding Sirius XM Radio, which later led to significant success and notoriety.  But her success, even at this level—the kind that allows for one to rest on their laurels, retreat to the hillsides of southern France, forever surrendering to the fetid cheeses and vinous ablutions of the region—is not where Rothblatt's unique story ends.  
It was in the early 90s when Rothblatt learned of her youngest daughter's diagnosis, a rare disease called pulmonary arterial hypertension; a disease that had no cure and a fatal prognosis.  
Remarkably, Martine took it upon herself to find a cure, and, in short—she found it.
Perhaps more remarkable is that Martine lacks any previous background in the sciences, at least not to the extent that she had peered extensively through laboratory microscopes to make this a reality.  Her attempts to find a cure is a testament of will and desire, the kind that stems from the threat of severing one's parental bond with that of their child and that of their wellbeing.
Rothblatt's story mirrors those of other parents driven by health-induced urgency for their children: Augusto and Michaela Odone, independently researched and famously pioneered a dietary oil for their son Lorenzo, afflicted with Adrenoleukodystrophy (ADL); while Chris and Hugh Hempel, sought to find a cure for their twin daughters' rare disease, Niemann-Pick type C, commonly known as childhood Alzheimer's.  (In the latter case, the parents were given approval by the FDA on compassionate grounds to administer the experimental use of their treatment.  Rothblatt, too, faced the FDA in her attempts for FDA drug approval so that thousands with a rare crippling disease could benefit.)   
And so Rothblatt's story continues, as detailed on stage by the Elevate interviewer Ilse Treurnicht and Rothblatt herself:  
In 1996, Rothblatt founded United Therapeutics, the company that would bring to market Remodulin, the drug that ultimately saved her daughter's life and that of countless others. Rothblatt's company has since developed and have on offer a total of five drugs (Adcirca, Orenitram, Remodulin, Tyvaso and Unituxise).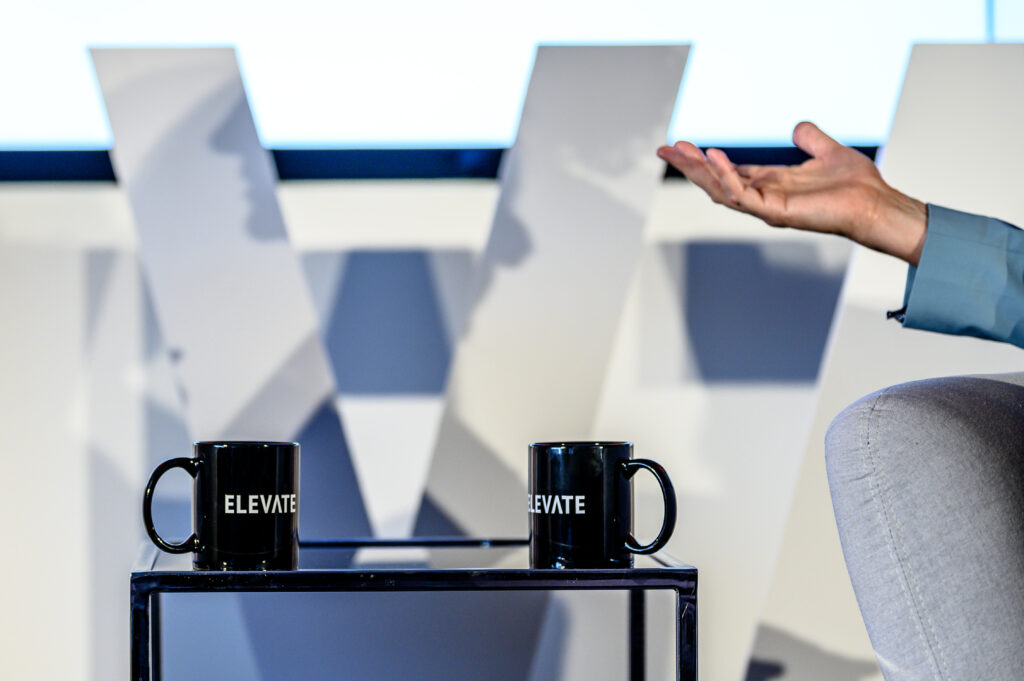 To get an even better sense of who Rothblatt is as a person, Remodulin, her company's drug that treats thousands to live a longer, healthier life, is given to those who cannot afford the drug "for free", as Rothblatt explains.
Admittedly, this article is primarily fuelled by Rothblatt's overall approach and motivations for good; sadly, a tale not heard often enough—the kind that gets discarded or lost in the deluge of sports heroes, incompetent politicians and Instagram-able trends with today's modern-day news cycle.
Martine embodies the traits one expects of a good, compassionate leader, not just for a company and its employees, but also for those suffering and living in fear with disease; those helpless in the shadows of malady.
Judging by United Therapeutics' website design, it seems Rothblatt is a fan of Ralph Steadman's art, a visual artist also known for his association with gonzo journalist Hunter S. Thompson.  Like the dynamic artist and his eccentric work, this gives the impression that this CEO is perhaps a tad whimsical, or even surreal (if one can be surreal); working at a different level than the rest of us or those in her corporate milieu of number-crunchers.   
Indeed, when hearing her speak on stage, one gets the sense that Rothblatt is capable of traversing the commercial world with compassion, mindfulness and a kind of self-awareness that some would argue is rare among her cohort; in other words, she is an exemplary, a complete package cap-a-pie for our 21st century.
Rothblatt's endeavours are numerous and also include AI and robotics.  She has written a book entitled "Virtually Human: The Promise—and the Peril—of Digital Immortality" on the subject of downloading one's entire actual/digital self and living in perpetuity inside computer servers.  Her obsession with robots (particularly the one modelled after her partner Bina) also starts to blur the lines of the real and the virtual.  It's no wonder that she describes herself as a Transhumanist.  
Some of this might sound familiar to Black Mirror fans; the episode "San Junipero"—critically acclaimed and now considered a masterpiece—has artfully recreated, or perhaps plays out Rothblatt's technological, futurist ambitions.  Fans of the show in attendance can almost hear Belinda Carlisle's "Heaven Is A Place On Earth" when listening to Rothblatt speak of computer servers downloading our lives that achieve digital immortality.  But while Rothblatt blurs lines between the virtual and real, she is consumed with alleviating our current, real world problems.   
Rothblatt's past is intriguing, but being a futurist inspires her to move with the science of the times.  In that sense, Rothblatt's other company Lung Biotechnology looks to breathe new life, literally, for those in need of a lung transplant, but also for those in need of any organ.    
Rothblatt's latest and perhaps most ambitious venture is to manufacture an endless supply of transplantable organs
Rothblatt goes on to explain that her endeavour to start a company that could produce organs in abundance for all who would need them was eyed as unrealistic; something belonging to the sci-fi sections of bookstores than actual science labs.  
She was undeterred.
Unfortunately, with successful organ donations scarcely commensurate with those in need of a transplant, many still die in waiting.  A subsidiary company of United Therapeutics, Lung Biotechnology PBC intends to make the impossible a reality.  [Note the 'PBC' portion in the company's name; it means that the company is a Public Benefit Corporation, a less common business model but one that will hopefully proliferate throughout the biotech sector.  More on this later.]
Lungs, Organ Transplants, and Toronto's Dr. Shef Keshavjee
Making the impossible possible aligns with this year's Elevate Tech Festival and its theme of 'Moonshots', which focused on tech startups looking to break impossible odds, i.e. shots that are taken despite foreseen obstacles and doubtful cries of their supposed inherent improbabilities.   
During her talk, Rothblatt points to innovations made at Toronto General Hospital, and in particular one that was pioneered by Dr. Shef Keshavjee.  She goes on to say that she discovered a YouTube clip of Dr. Keshavjee illustrating his EVLP technique for lung transplantation, "where he can take completely dead lungs" and essentially bring them back to life.  
In preparation for transplantation, Dr. Keshavjee works on lungs in a normothermic ex vivo perfusion chamber.  The normothermic aspect is critical because it has been shown to have healthier, better performing effects than that of organs iced for hours.  Immunological preparation for the processes of transplantation and all attendant lung injuries like edema can be treated as a result of the ex vivo's intermittency period, a process Dr. Keshavjee has described as "personalized medicine" to improve "quality, safety and predictability of outcomes in transplantation".  In simpler terms, the lung is kept alive outside the body, as evidenced in an eyeopening video from 2010 (see below), and kept healthy until surgery.
Inspired and seeing the potential for the technology, Rothblatt was quick to move.  
Rothblatt's company, she goes on to say, has since "built the first centralized lung restoration facility anywhere in the world" using the technology pioneered by the Toronto General Hospital team.  Rothblatt points out that Lung Biotechnology PBC, has restored lungs that were otherwise unwanted, and they have already "saved hundreds of lives" with this technology, and likely thousands more down the road.
Ex-Vivo Lung Perfusion (EVLP) Technology
For more detailed information on EVLP, its capabilities in lung transplantation (focusing on facilitating recovery versus more traditional mechanisms; comparing it to cold preservation techniques and more, as pioneered by Dr. Keshavjee and his team and in association with UHN in Toronto and partnering institutes) see lecture here.
The importance of (and need for) Public Benefit Corporations (PBCs) in the BioSciences
Complex problems require complex solutions, but more than anything else, they require capital—lots of it.  But those imbued by the infallible spirit of humanity, who seek to improve the health of millions, will (hopefully) find investors to fill their capacious needs.
As Rothblatt points out in her Elevate talk, "the corporation model is a great way to raise money," but in the case of corporate takeovers, the "courts have repeatedly said that whether the takeover target wants to be sold or not, they have to be sold".  The reason, is that a corporation is beholden to shareholders, to provide a return on investment, particularly when the offer is twenty percent or more of what the company is valued at the time of the offer.
In such a scenario the result is that the company is "stripped of the cool, long-term R&D projects and the takeover target is milked for its profits".  It was evident to lawmakers and activists that this was a serious problem.  The new model for Rothblatt was to adopt a public benefit standard to prevent any potential for these kinds of losses in R&D and overall innovation and to specifically focus on issues that benefit the public good.
The traditional corporate method was an undesirous model for Rothblatt who goes on to explain that Public Benefit Corporations and their board of directors can prevent takeovers they find unscrupulous or wanton.  The board of directors of a PBC are legally allowed to say, "No, we don't want to be taken over because we have an equal obligation to our public benefit purpose.  Unless we see evidence that our hostile acquirer is really concerned about our public benefit—which is like always never the case—then we have the legal right to say no to the hostile acquirer because we have the obligation to the public benefit purpose."
As a closing point, Rothblatt says that her company is one of the best at "recruiting and retaining the talent that we have", with some of the lowest turnover rates among the company's biotech peers.  In part, this is credited to the PBC model, one that more entrepreneurs are now choosing to adopt as a basis for their startups in the biosciences.   
Breaking Records and Making Electric Helicopters A Reality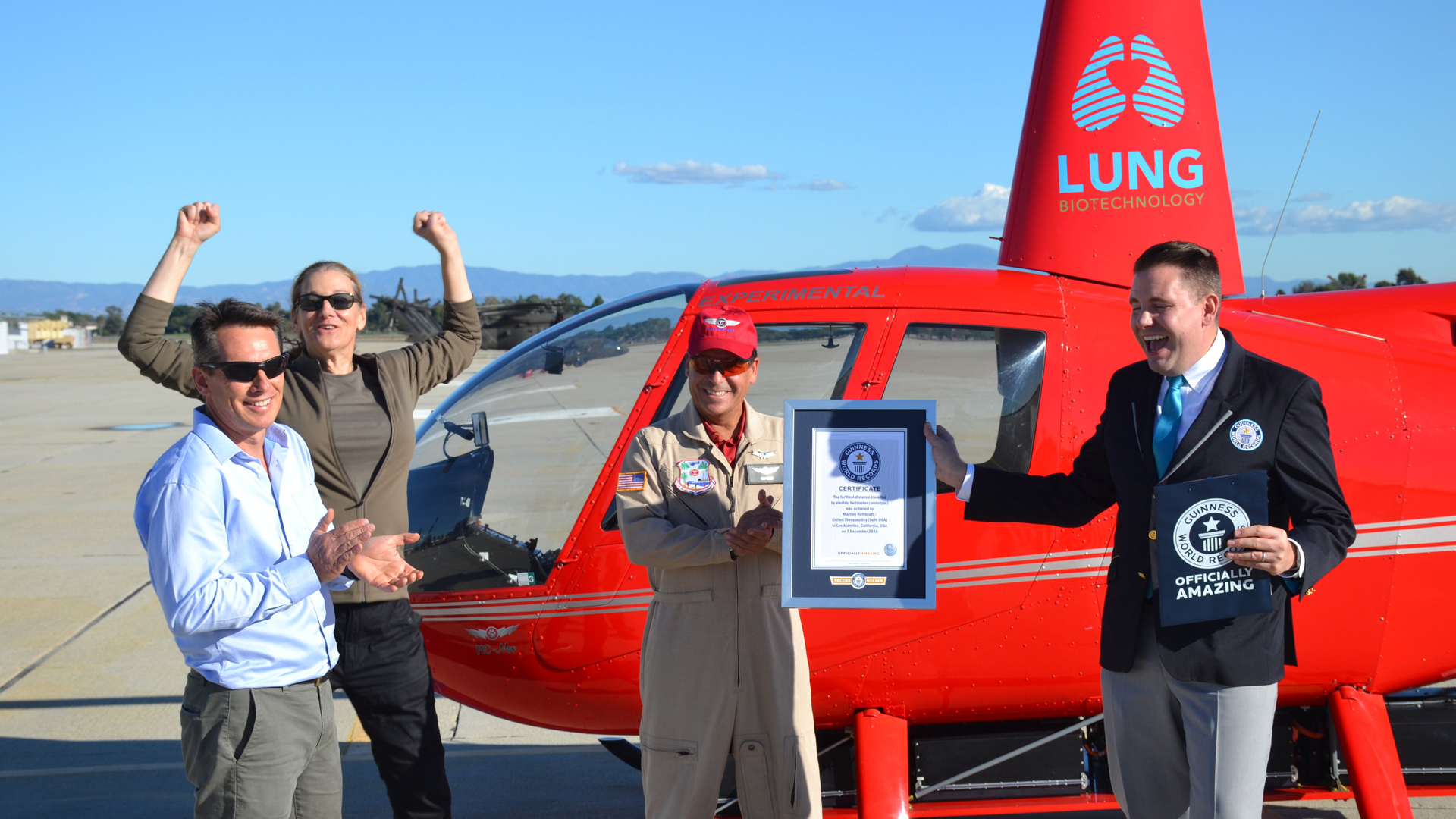 On the topic of transplants, Rothblatt reminds the Toronto Elevate attendees that the first successful lung transplant was done in 1983 by a team in Toronto, also adding that Canada is a leader in aeronautics, citing Bombardier and Drone Delivery Canada as examples.  This was a prelude to describe yet another of her ventures.   
Her list of accomplishments are encyclopedic in detail and length.  Perhaps, the more parenthetical of them—one she takes particular amusement in sharing as she describes with a smile on the Elevate stage—is having obtained a Guinness World Record for the longest trip in an electric helicopter (supplied by Tier 1 Engineering), alongside pilot Ric Webb in December of last year. (44 mins and 27 secs, with a distance of 56.82 kms; in case you were wondering).   
The helicopter—launched from Los Alamitos Army Airfield in California—is a prototype that Rothblatt is seeking federal approval for, which in turn will help deliver organs for transplant; longterm plans include electric drones to do the same, but the goal here is to design a (semi-autonomous rotocraft) helicopter that will reach two hours of airtime with significant battery reserve.  
As the Guinness article headline reads, Rothblatt and her 'dream team' proved "doubters wrong with electric helicopter achievement".  With each subsequent achievement, it seems that proving doubters wrong is Rothblatt's modus operandi.  In the process, this engineering milestone is about reaching orbit to her moonshot goals: a step closer to making electric helicopters a daily reality and to add another tool to her overall goal of bringing transplantable organs to everyone with greater immediacy; and to meet net-zero carbon emission targets set out by her company.
When it comes to organ transplantation, time is critical, and despite being able to extend the life of an organ ex-vivo, the window is roughly 24 hrs for the organ to reach its in-vivo target; thus a dream of mass organ manufacturing requires speedy, unhindered transport.  Naturally, Rothblatt is now investing in electric drones/helicopters for the delivery of transplantable organs.  These transports will enable the saving of precious time during the process of delivery and as Rothblatt explains, the company expects to deliver an organ "via electric drone by the end of this year".
Words of Encouragement:
Why Bet On A Moonshot When They're So High Risk? Well, get to orbit first, suggests Rothblatt.
As mentioned, this year's theme at Elevate was about "moonshots"; what inspires them, what encourages them, and what makes some of them successful.  When asked by the interviewer Ilse Treurnicht about the risk of moonshots, Rothblatt swiftly recalls a mantra exercised at General Electric by its former CEO, Jack Welch.  
Jack's philosophy was as Rothblatt states: "if you can't be number one or number two in the business [specific to an industry] then find another business where you can be number one or two".  You can't be successful entering a field where there are one or two dominant entities, hence, moonshots are ventures of singularity into an unknown.  Startups that enter "areas that are neglected" will benefit from the "big fish in a small pond" scenario. 
The idea of creating an unlimited supply of transplantable organs was and is a moonshot that was not being considered by many, including "big pharma and med-tech firms," as Rothblatt points out.  "Nobody was trying to do that, and people thought it was impossible."  
It seems, the gap in the industry wasn't just a slivered niche in the biosciences, it was a gaping void.  This taken opportunity and approach now coincides with her company's mantra, which Rothblatt says with enthusisam, is to "identify a corridor of indifference and run like hell down it" and "then just work day and night to master that area".    
In conclusion, Rothblatt went on to say that every single project can be divided into smaller singular projects, and that even our ambitions of landing people on the moon, "started off by putting somebody up in orbit."
Getting into orbit should be the adopted goal for any startup, for even then, one sees the surface of the moon more closely and perspectives change; the distance of the goal becomes smaller and ambitiously more reachable against a stream of contemplated impossibilities.  
This so-called risky approach feels more appropriately suited for those endeavouring in the health sciences, because resources and capital, if lost, should be risked and spent landing on moons where cures are waiting to be found.  
As a collective, we remember failed moonshots as much as the successful landings, we make movies of their tragedies, because we so admire the sacrifices made, the ambition, and the desire for a better world; the paying of debt to our intrepid forbears, and so on.
Changing The World One Step and One Carbon-less Footprint At A Time
Rothblatt's plans to manufacture drugs and organs from her facilities, including her newest building—the Unisphere—in Silver Spring, Maryland, is part of her eco-conscious, public-benefit approach, and as she matter-of-factly states:
"To save the earth while saving people on it."    
For her projects, Rothblatt is also adamant about keeping and maintaining a zero-carbon footprint.  Her new building on her company's campus is a net-zero building, while her eco-friendly, electric transports will ultimately deliver organs and save lives with zero emissions.  The stunning and unique architecture of the Unisphere building, designed by EwingCole, includes 3,000 solar panels, and with windows that automatically darken to reduce the intensity of sunlight, and open or close for air (a building that in affect "breathes").  As Martine exclaims, "to save the earth while saving the people on it" only makes sense for a company in the health and medicine space, and that the company looks to be environmentally sustainable moving forward to keep with their overall eco-conscious mission.
In closing to her Elevate talk, the topic turned to her new labs that have a different, less analogue approach to research and development.  One of Rothblatt's goals is to exploit digital technology in the medical realm through what her company defines as their CLIMB labs (Computational Laboratory for Insilico Molecular Biology).  Digital technology is something she thinks is "super, super important".  The benefits, as Martine goes on to extoll, are to "digitally model biological systems to a high degree of resolution" in silico, so that one can digitize hundreds of molecules a day as a testing metric versus what the field has done historically, which will one day be viewed as grossly outdated.
Spontaneous, On-The-Bench Interview:
On that same Monday, on a sunny afternoon, an anomaly-like burst of clouds billowed in as we arrived by the lake, resulting in a needless flash shower; it was a sign, as though the gods were sending down one of their angels.  
And indeed they did, as Rothblatt landed on a bench for an interview, while patches of light soon broke through those capricious clouds allowing for the interview to take place.  
Having been told Rothblatt was not doing interviews while in Toronto, the chance timing and spontaneity of this, and its unpreparedness, will likely show.  To do the interview any service, it was imperative to not have it distilled, modified or adulterated by edits or extraneous descriptors; in that regard, with the exception of one or two portions, the interview has been transcribed to the letter:
Somewhat nervously, I opened with pleasantries and a long prologue about Algorithmic Culture before finally arriving at potential concerns and procedural differences regarding small biotech companies, and Big Pharma in particular; and how something like Remodulin—the drug that saved her daughter's life, whose origins sat on a shelf at a large pharmaceutical company—never made it to market prior to Martine's involvement.
"When it actually comes to making something accessible for other people to use their medical condition it becomes a very narrow funnel.  What happened to all the other things they have discovered?  Were they no good?  There's no way to say whether they were good or not, because they never did a clinical trial with it, they never did an experiment to prove whether or not the experiment was good or not good.  In the case of my daughter's illness, the market was not large enough for it, so literally the cure to my daughter's illness was in a freezer at Glaxo Wellcome [now GlaxoSmithKline].  And there's a tongue-in-cheek phrase, meaning—it's nothing I can prove that's true, but it's not actually completely untrue either—which is the cure for most, or maybe all diseases, right now, already exist in some Big Pharma's freezer." 
"This speaks to my cynical side."
"It's not because they're evil or anything, it's simply because they're under a lot of pressure to produce profits for shareholders, and this process of doing clinical development is actually more costly to them than the R&D phase, because it ultimately involves people, patients, doctors; it's a very time-consuming process."
"This leads to my next question:  You've had to deal with the FDA, were there any roadblocks in that regard?"
"Yes, there definitely were.  One of the roadblocks was that there was a completely arbitrary standard of scientific proof, called the '.05 standard'.  If you're in the FDA world, you don't want to approve anything unless it's been scientifically proven—quote unquote, for what it's claimed to be, which is to "successfully treat the disease"—so their standard of scientific proof is to do a randomized placebo controlled trial; meaning one group of patients will get either nothing or normal background therapy, and the other group of patients is going to get the medicine.  At the end, they'll see if the group getting the medicine do better than the group not getting the medicine.  So, if for example, the odds of a group doing better was six out of a hundred, then they'll say the medicine didn't work, that it was statistical fluke.  They require the odds of random chance being less than .05; but you cannot mathematically derive .05, it's a made up number.  So, there have been, literally thousands of medicines thrown overboard because in their clinical trial they did not do better than this .05 standard.  In the case of my own company, we tested this medicine that I found and we did two clinical trials: in one of the trials, it turned out to be better than placebo, with a chance, occurring by just random fluke of .055; in the other trial, the chance of it being better than placebo by chance was .061.  So, the staff of the FDA, unanimously recommended that our medicine not be approved—so my daughter would have died.  So, that was, I recall, a roadblock—the FDA.  What we did is we went out—the medicine had been tested in all these patients—so we gathered up these patients who had been tested and we asked the FDA for a public meeting, and the FDA heard the testimonies of these patients who had been on our medicine; they said before "I was on the medicine, I couldn't even walk up the two steps to my front door, now that I've been on the medicine, I'm doing better than ever."
"How long were these tests going on for?"
"How long did it take for you to bypass, or to get clearance after the FDA?"
"One year after that, because what we did was got these patients to tell their personal stories to the FDA…"
"Doesn't it take an average of ten years to…?"
"But that's an average.  Whether it's true or not true, I don't know, I've never did the statistics, but it's a number that serves the interests of the large pharmaceutical companies,  because it's a number that helps justify very large costs.  It may be a true number, I don't know, I've never did the analysis.  In our own particular case, we have five medicines approved with the FDA, we didn't work on any of those five; the longest one took seven years.  So, by no means, the average was like four years, I would say.  But that's also because a small biotech company can move much faster than a big pharmaceutical company.  In a big pharmaceutical company there are all these different people who have their stick on the ball: there's the non-clinical group, who do tests on animals; the chemistry group; the regulatory group; the formulation group; not to mention even include the sales and marketing.  By the time , years have gone by."
"It makes you wonder why they even bother to try."
"It's a miracle! Actually, that the drugs that are approved, it's a miracle that they get out.  In a small company like ours, we follow the Elon Musk rule: no meeting should have more than six people in them, and if you're not actively participating in the meeting, leave the meeting and do something useful." 
"Is your company getting involved with CRISPR in any way."
"Yes it is, we use CRISPR day in and day out to do all of the porcine genetic modifications that I mentioned in my talk.  We could not make those porcine genetic modifications work as well as we do without CRISPR."
"Are you going to get involved with any other aspects of CRISPR, or is it just organ transplants at this point?"
"There is another aspect of it we would like to get involved with.  We are currently doing a gene-therapy study in Canada, where patients give up some of their own blood, and we search through their blood to find the stem cells that circulate in their blood. And then we genetically modify those stem cells to help them produce a molecule in their body that they're currently lacking that makes them sick.  When we genetically modify it—we don't use CRISPR right now, we use another transfection technology that does not work as good as CRISPR—but the good thing about this kind of treatment is it's your own cells that go into your body. We don't use a bacteria or a virus.  So, trying to change things—this is why I believe in regulation—because when you're trying to put something into a person's body, that's on the verge of recklessness.  Nature evolved our bodies over countless millions of years, […] now we're throwing in this pill, that infusion, this molecule that never existed in nature before, it's manmade and put into human bodies, not to mention tweaking genes which have evolved over hundreds of millions, billions of years—of course things are going to wrong.  The reason that I am pushing our company so hard in the field of computational biology is because I think it is primitive and reckless for us to test on living bodies, animals or humans, and really thinking we know the answers.  We can't know what we don't see, we can't see inside of a body—we've been lucky with the good medicines we have."
At this point in the interview, which pivoted to something more akin to a discussion, I asked Martine about CRISPR, specifically China's rapid advancements in the field (100:1 ratio of CRISPR clinical trials versus those in the U.S.) and whether the country was moving too quickly or even recklessly; touching on issues of ethics, and whether the U.S. was languishing by comparison in terms of innovation.  
Martine disclosed that she isn't privy to any knowledge on whether scientists are exercising international standards in China, and despite the rogue element of one CRISPR experimenting geneticist named He Jiankui—who earlier this year announced the CRISPR-ing of newborn twins (an act thoroughly condemned by the international scientific community)—that there's every reason to believe most scientists are following ethical precepts and codes of conduct.  
She notes a scientist's need and desire to be accountable, and to have case studies published in reputable, peer-reviewed journals (e.g. The Lancet), something that scientists of any stripe seek to attain as they're beholden to their international cohort and scientific community, and specifically to the stringent requirements abided therein.  In closing, however, Martine notes that in any country, including that of the U.S. and Canada, that there are "bad apples," which she then underscores by referencing one of her "favourite quotes about ethics and humanity, from the great philosopher, Isaiah Berlin: 'Under the crooked timber of humanity, no straight thing was ever made.'"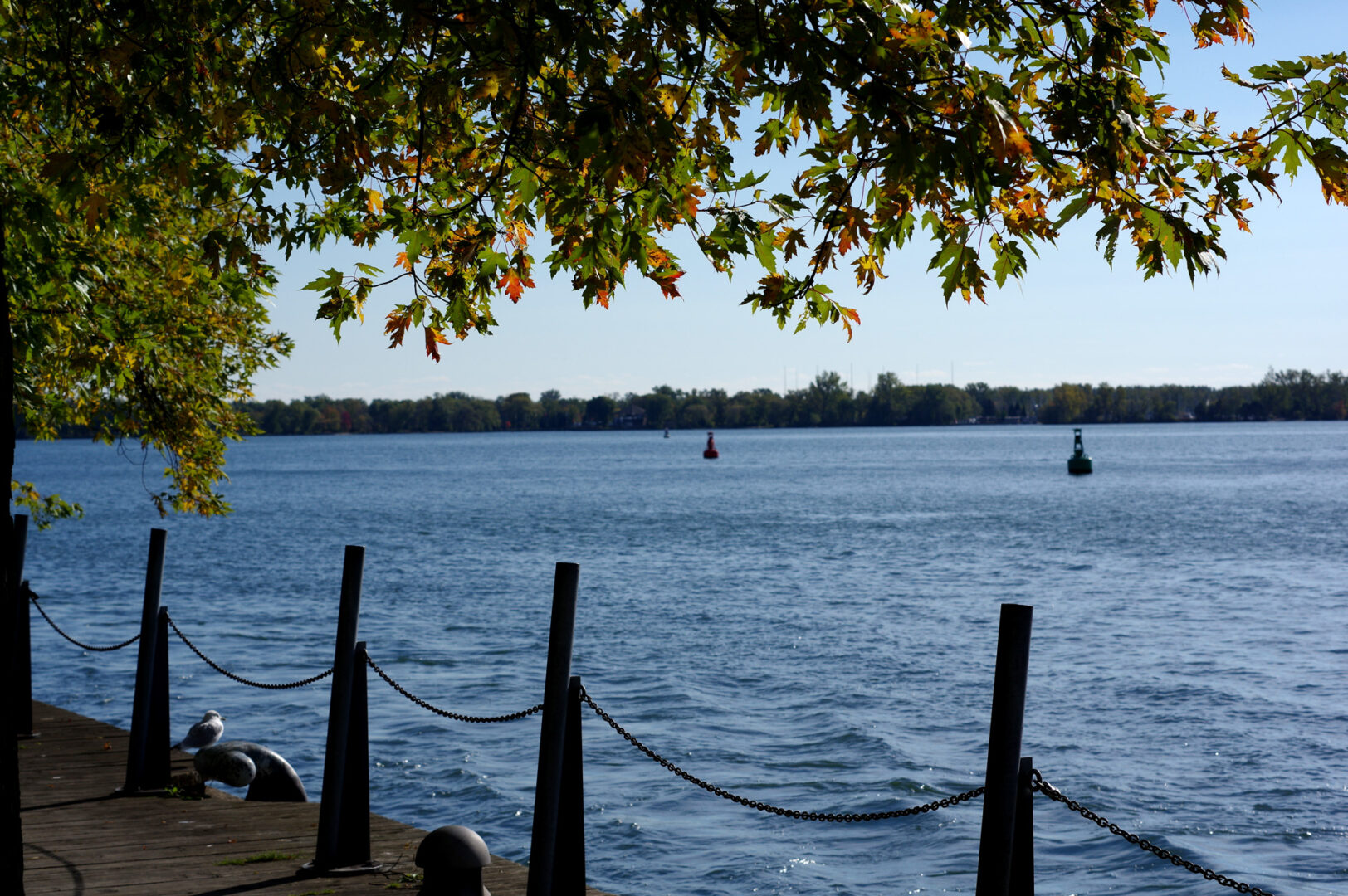 "Can anything be done, should there be changes with the FDA, to maybe speed up the process?"
"I think the best change for the FDA would be to—instead of having this rigid .05 standard, which is completely arbitrary—that every drug being approved should be measured under an algorithm that assesses its benefits and the probability of its benefits against the cost of allowing the disease to continue without this treatment and the probability of those results.  So, it should be a parametric assessment of efficacy rather than this bright redline measure that they have right now which is arbitrary." 
"Do you think there's a possibility to have a patent—let's say it's a CRISPR patent—and once a company gets that patent it gets protected under Human Rights Law so that Big Pharma can't come in, buy up a start-up [to protect their own interests], then shelve it?"
"People have done it, yes, yes that is possible, because people have done that with gene sequencing, that they have identified genes and patented them and put it into a public domain, so anybody can do that.  And, in my own opinion, that would not slow down innovation one iota, it would probably even accelerate it."
It was on this note that the interview ended, hoping to leave the topic of protecting medicinal patents and those waiting for cures and other hanging questions to be broached at another date.
We parted ways when Rothblatt turned around to be interviewed by an enthusiastic teen for their YouTube video, while her partner, Bina, patiently looked on from a distance.  
Rothblatt wears a pin on her lapel (the logo of her Lung Biotech company) that shimmers at the perfect angle of light.  Like Rothblatt herself, a CEO with benevolent aims, she chooses to see things differently, at different angles of light, and as a result is reflecting it back to anyone paying attention.  
Here's hoping other successful entrepreneurs see this light and employ their own strengths, resources and capital that most could only dream of possessing, to the benefit of all; that more follow her ambitions to pool talent in the health sector, and to protect the valuable patents and research that could benefit a greater more than a mere and select few.
Perhaps, Rothblatt's story is offered to us with an ethical lens, particularly for any resourceful billionaire obsessed with galactic feats of engineering, but who has yet to delve into biotechnology that will treat and/or cure the afflicted.
The world needs a whole lot of Rothblatt, and it's imperative that focus and attention is brought to her; for the media to empower the likes of her as much as they do on the next iPhone launch.  People might be confined to poor neighbourhoods, lower echelons of society, to imbalanced circumstances (sometimes brought upon by disease), but biotechnology, at least, in theory, is the great equalizer.
There are many billionaires with resources at their disposal to help usher in a new era in medicine, especially with the CRISPR; however, they have not jumped in knee-deep as Martine.      
After meeting Rothblatt, big questions seem to loom: Why aren't there more CEOs like her? Why aren't more of the world's billionaires entering the biotech space?
Here's hoping the world is blessed, sooner rather than later, with more Martine Rothblatts.  Maybe then we won't have to embark on discussions that involve impending doomsday scenarios and terraforming planets; not to discount these as they too are important to consider, but we get closer to securing our collective freedoms one cure at a time.  
By finding cures, we avoid other periphery issues for which many go unaccounted.  Costs that drain us financially, but also emotionally; as the residue of affliction is also the burden, mental anguish and suffering of those around the afflicted.  In curing heart disease alone, the estimated worldwide yearly cost savings to healthcare and productivity is estimated to be over a trillion dollars by 2030.  Other estimates include that from the American Heart Association which claims yearly numbers in the hundreds of billions for the U.S. alone.  
If we reach orbit in the biotech sciences, there's no knowing how much potential could be released in the unharnessing of our collective burdens: cures for cancer, Alzheimer's, and a myriad of viruses, are all within reach, not just in the next 50 years, they're just around the corner.  
With Rothblatt, and those like her, they'll be here tomorrow with moonshots that take us to orbit and shorten our distances, providing newer perspectives of probability rather than impossibility.
With the exception of Gates who actively pursues philanthropic initiatives, (e.g. eradicating malaria) what are the world's billionaires doing to not just treat diseases but to cure them?  More than money, they have the power to sway, and the power of influence to ensure ethical projects reach their goals, with undeterred speed.  For those waiting for miracles, time is of the essence.  Imagine a world where the curing of diseases can empower millions, relieve financial burdens, but more importantly, to allow greater swaths of people to live with dignity, a life deserved of any human of any class.
The author wishes to thank Martine Rothblatt for her time and generosity while in Toronto.